Home


New Folks


FAQ



Pennsic People


Mystic Mail


Pennsic U


Photos


Stories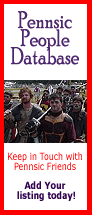 Site Map

Comments

Sponsorship

Links



Submitting Pennsic.Net Articles
Write an article for Pennsic.Net on something you know well, and...
Share your experience...

Tell others "how it really is..."

Explore new points of view...

Reach thousands of Pennsic War fanatics...

Become famous!
This is Pennsic.Net's newest interactive forum. Now YOU have the opportunity to speak your mind or share your wisdom on an issue that is important to you... and many, many others! We are encouraging anyone who has been to Pennsic and feels that they could write an article on some aspect of this great War to come forth.
Topics
Here is a list of articles we are soliciting for at this time, including some questions/issues we feel each article should address. Your article doesn't have to answer everything about the topic -- just write about what you know best.
A First-timer's Guide to Land Grab

What to expect at Land Grab
What to do before Pennsic, and When
Tips for success (Do's and Don'ts)
How to resolve conflicts (allocation, personal, etc)

Running the Perfect Pennsic Party

Security, ID's, Minors
Aesthetics: camp size, lighting, decor
Safety: fires, walkways, inebriation
Publicizing before and at Pennsic

Running a Successful A&S Class
Viewpoints from the Top of Mt. Eislinn

Are the new hilltop campsites a good idea?
Life up top: Quieter, spacious,... lonely?

Security for Children at War

Tips for First-timer Parents

Cellphones and Family Radios - Have they gone too far?

Getting around the payphone shortage
Period alternatives to radios
"Hey buddy, can you keep that squauk down?"

Shopping Tips

How to get the best deal
How to find that rare, one-of-a-kind thingy

Life on the Battlefield

How Pennsic battles may differ from your local event
Armor care and security
If you have an idea for an article not related to any of these topics, please inquire to us using the Comment form and include the topic and a brief outline.
Criteria and Conditions
There is no minimum size (recommended at least 500 words)
Maximum size: 5,000 words
Pictures related to the article are encouraged!

Jpeg, PNG or GIF preferred
Max. 10 per article
You may also supply a picture of yourself if you wish.

HTML formatting is suggested but not required. Submissions can be in plaintext, HTML or Microsoft® Word.
Web links to personal websites are acceptable as long as:

They are appropriate to the topic, or to the author's home page.
The link does not point to a commercial or for-profit website.

Submissions become the property of Pennsic.Net, however you will be credited for your work unless you request to remain anonymous
All articles and pictures are reviewed by Pennsic.Net staff. Grammatical and spelling corrections will be made, however we will try to keep your article intact as much as possible.
Articles will not be published on Pennsic.Net if:

Content may be considered offensive by more than a few people
Content does not provide any new information over articles that have already been published
Content not relevant to Pennsic War, early-period recreationism or the S.C.A.
Sufficient articles in the same topic have already been published.
Article contains copyrighted material that cannot be legally reproduced/distributed on Pennsic.Net
Submission
Use the form below to submit your article:
---
Pennsic.net Home - Search - FAQ - Photos - Pennsic People Database - Comments - Advertising
Didn't find what you're looking for? Try the Index of Topics
---
©1995-2016 Alexander. All Rights Reserved.
Last modified: 09-March-2002