Home


New Folks


FAQ



Pennsic People


Mystic Mail


Pennsic U


Photos


Stories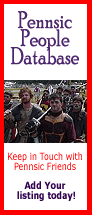 Site Map

Comments

Sponsorship

Links



Internet and Media Services
at Pennsic War
We're the only on-site merchant establishment at Cooper's Lake campground to offer high speed internet access and a full range of printing/media services. And we also charge batteries!
Questions? Find Answers!

Updated Apr-2011

This page is updated with the latest policy and service information. If your question is not answered here, use this form to ask us.

General Questions

A: The Mystic Mail pavilions are located centrally On Site, near the main food court and behind the Stave Church. Look for the sign with our beautiful Gypsy on it. Mystic Mail Tour
A: First Week: Mon-Thurs: 9AM-7PM
After that, we'll be open 9:AM-9PM daily. If you have any special needs for access other than at those hours, contact us and we will see what kind of arrangements can be made.
Last Friday: Open until 6pm
Last Saturday: CLOSED (This is per Coopers Lake -- no merchants can be open on Saturday)
A: See our Services Page for schedule of fees.
A: We sell a Prepaid Minutes card which is very popular and has reduced rates. Only so many are printed each year and sometimes we do run out! Best to get one early in the War. Inquire for special rates for usage of 10+ hours. We get requests of people needing 20 and even 40 hours to do their work while at War.
A: Cash, Credit Card and travellers checks are accepted. Sorry, no checks. It is also possible to pay for our Prepaid Cards using a Paypal account. Ask the front desk receptionist.
A: No, we do not refund unused minutes.
A: Not at this time, but feel free to stop by an check with us anytime.
A: No. Pennsic War is difficult enough!

Internet Services

A: Yes! Surf Away! You will be able to receive and send email if you use one of these services: Gmail, Hotmail, Yahoo or other web-based services Pine, xmail and other telnet/shell services (via PuTTY) POP3 accounts (see note) AOL (via web)All web-based mail services will be accessible as you would from home.
A: Absolutely. There are some technical requirements regarding this service. You will have to have your own network card and configured for DHCP. See our BYO Notebook information page for full details.
A: Yes. Every year we have several happy customers who bring their own notebooks and work during the day, allowing them to play at Pennsic every night. We offer special bulk prices for telecommuters. We specialize in serving the needs of business professionals. See our BYO Notebook information page
A: For those who bring their own notebook, it should be possible to use VPN via a tunnelling application. Mystic Mail does not supply software or support for this service.
A: In the past we have found that our business is steady enough not to need a reservation system, but if you are certain you will need a terminal or a BYO space at a specific day and time, let our staff know in advance. You can also send a Feedback Form request with your specific needs.
A: Absolutely. Most of our customers are walk-ins. During peak times of the day (12-4pm) there may be a nominal wait for a terminal but it is usually not more than a few minutes.

Printing Services

Q: What kind of paper do you use/sell for your copies?

A: We feature high quality 24 lb bond in 8-1/2" x 11" standard. At least one of our printers will be capable of printing legal size however you must bring your own paper. We can also print on colored, neon or even recycled paper however you would need to bring that with you and we will (probably) not have any for sale.

Q: Will you have photographic quality printing?

A: Due to the low demand, high cost and slow speed of photo quality printing, we will not be offering such a service. If you want to bring your own photo paper for use in our ink jet printer, you are welcome to try using it however be aware that we must charge extra for each "heavy ink" page printed even if it is your own paper.

Q: Can I photocopy originals, or do I have to print only from files on disk?

A: Our printers double as fully-featured photocopy machines. They can also enlarge and shrink originals to some degree. Our fastest printer has a 30 page document feeder for speed and convenience.

Q: If I bring my own notebook (see: BYO Notebook) can I also bring my own portable printer?

A: Yes.

Q: Do you offer double-sided copies? (a.k.a. "Duplexing")

A: Depends on how busy we are. If you really want double sided copies and you come at a slow time of the day, our staff can help you set up for duplexing on our fast printer. Be aware that YOU are still responsible to pay for any printing mistakes (backwards pages, duplexing wrong sheet, etc.)

Q: Do I get a discount for printing both sides?

A: No. We charge by the printed page, not by sheet of paper.

Other Services

A: Yes, you can rent table space and use our electricity for a nominal fee. You would have to supply your own notebook. See our BYO Notebook information page
A: Yes, we offer FAX via internet telephone. Inquire at our on-site booth to get our telephone number for having FAXes sent to you at Pennsic.
A: See our Services Page for other services.
A: Yes. Cameras with removable media can be downloaded onto our systems where you can burn your photos to a CD. We will have blank CD's for sale, too.

Mystic Mail Information
---
Pennsic.net Home - Search - FAQ - Photos - Pennsic People Database - Comments - Advertising
Didn't find what you're looking for? Try the Index of Topics
---
©1995-2012 Alexander. All Rights Reserved.