Home


New Folks


FAQ



Pennsic People


Party Calendar


Mystic Mail


Pennsic U


Photos


Stories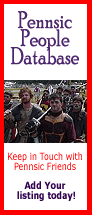 Site Map

Comments

Sponsorship

Links



Parties, Open Gatherings, Bardics, Night Life
Submission Form
Rules for Submission - Please Read
Party listings are very welcome from everyone, but they must conform to the following guidelines:
Before Pennsic, submissions are accepted only via the form below. At Pennsic, you can visit the Mystic Mail booth in the Merchant Area to hand in last minute changes or new party listings.
You must be an authorized representative of the Host -- submitting party details for another group or host can be done only if you have their permission.
Submissions are for open parties and gathers ONLY (age restricted parties are acceptable, please state restriction clearly). Those with a cover charge cannot be listed.
In general, this calendar is for nightlife and "unofficial" events. If your event has an official function or is listed in an on-site (paper) publication we probably won't list it here.
If you list your party here, you should expect hundreds if not thousands of people to attend.
Amoeba parties need not submit (yer a silly lot, yer all are!)
All submissions are reviewed before being posted. Pennsic.net staff reserves the right to edit or reject any submission.